We caught up with Peter Hook ahead of his tour with The Light to find out what it was really like running the world-famous Hacienda, who he thinks played the best portrayal of him and about his almost-stint in the Rolling Stones! Peter Hook and the Light will be on a huge UK tour this Autumn, you can get your hands on tickets here
What's it like walking down the street and seeing a school kid wearing a Joy Division or a New Order t-shirt?
It's always very nice to see! The unknown pleasures t-shirt is obviously extremely popular, I see a lot of those out and about. It's nice to see younger people wearing the shirts as I presume that means they are digging the music, and it's nice to know that our music can still appeal to people many years after it was written.
You recently played the Hacienda Festival in Japan – how does the Japanese crowd measure up?
Japanese crowds are always fantastic. They are very respectful but they also know how to let loose and enjoy themselves. I think a part of it was well is that as a musician from England they are very appreciative that you have made the effort to go over to the other side of the world to see them. The Japanese people are absolutely lovely and I love going over there. The hacienda festival takes place every year in Oiso which is just outside of Tokyo, we've done two of them so far and will be doing one again next year. We get various bands and DJs over to play and the people love it. The first year I played it with my band alongside the charlatans and the whip, and this year we had a great DJ line-up as well as the happy Mondays and Delphic live.
We're thinking of starting our own nightclub – any advice?
Yes, I have some advice for you – don't do it! Haha… No, in all seriousness, I would never say don't do it to anyone but what I would say is that please learn from our mistakes! I guess this is a great time to plug the book right! 'The Hacienda – How Not To Run A Club' will tell you all you need to know about operating a nightclub, see if you still want to do it after reading that!
Which has been the most realistic portrayal of you in film? Joe Anderson in Control or Ralph Little in 24-Hour Party People?
First thing to say is that I love both films – 24HPP is obviously more comedic and light, whereas Control is a lot more serious. Ralf Little did a decent job in 24hpp but when I watched it I didn't really see myself. However, in Control I think Joe Anderson really captured my character very well, as did all my mates! I think that is mainly because Anton Corbijn who made the film is a very good friend of ours and has known us for years, so he would definitely be able to portray us well in films.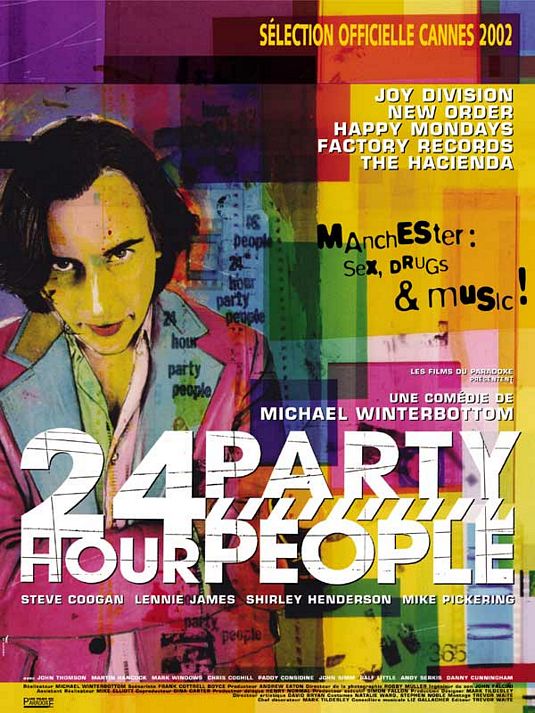 If you could be in any other band (alive or dead), which one would it be?
It's interesting you say that really as I recently saw a newspaper article saying that I had been beaten to the job of Primal Scream bassist? Don't really know where that one came from… However, being in the Scream would certainly be interesting. I actually found out that I was once 5th in line to play bass in the Stones! Mental… I don't think that would have lasted very long, me being tone deaf! If Mick Jagger held a gun to my head and said "play Satisfaction" I would just have to say 'shoot me, Mick!' I'm not very good at just picking things up by ear. I suppose if I could choose then I would want to play bass in The Stranglers as Jean Jacques Burnel is probably my favourite bass player and is a massive influence on me; however, I would not want to be there in place of him, I would want to be there as well as him for some big double bass action!
You play whole Joy Division & New Order albums in their entirety – can you pick one you enjoy playing the most?
That's a hard question really as I do like them all and they all work very well in the live format. If I had to pick then I would probably say that I enjoy playing Joy Division's second album 'Closer' the most – that album really takes you on a journey. It's not as 'big' as Unknown Pleasures but musically, I think it's actually better, I'm very proud of that record. Unknown Pleasures is different to Closer in the sense that it is a lot more rocky, then the New Order albums are different again in that the movement is a lot more intense, and power, corruption & lies is then quite danceable. I am happy to play them all live again.
You're at a festival with the usual array of exotic food stalls – which one do you hit first?
I think it would have to be just the boring old fish and chips for me! Can't beat it… Plus I think we've all had a few dodgy experiences with festival burgers!
Kraftwerk are performing their 3d show this summer – have you seen it? If so what did you think?
I have seen Kraftwerk live a few times and they have always been excellent but unfortunately I haven't seen the 3d show yet, hopefully I will see it sometime soon as I have heard it is amazing! I saw that they did an eight night residency in London playing each of their albums live; I would love to do something similar one day!
What was the first gig you ever went to?
I can't even remember, so it must have been a great night!
What was the last gig you went to? (Apart from your own).
The last gig I saw was The Horrors live in France, we did a festival together on the French Riviera and they were playing too – they were fantastic, I would say they are one of my favourite bands at the moment.
What was the best gig you ever went to?
That would absolutely have to be the Sex Pistols at the Lesser Free Trade Hall in Manchester in 1976! The gig is now infamous, there weren't many people there but the ones who were there were totally inspired and blown away. Me and Barney left that gig thinking we had to form a band the very next day… And the rest, as they say, is history.
What was the worst gig you ever went to?
I took my daughter to see the Jonas brothers when she was younger… That was rubbish!
Well Peter, that's the end of our interview, thank you very much!