"Is this your first SXSW?!??!" says someone overly excited. Like I've never had tacos before, or as if I was about to walk in to a party at the Playboy mansion, after a life of celibacy. Next, they would start with the advice "dude, you must rsvp for everything!" or "gotta hit the queue early!". Nevermind the bollocks, I strongly believe the "just go with it" approach works better.
The overwhelming number of things happening all around you, the myriad of people walking down 6th street – not all of them with a purpose or a sense of what's going on – and the general atmosphere are things better experienced without a strict schedule.
Odds are, if you could not get in to a band's show at 9pm, you will see them the next day at midnight in a room with fewer people.
I fell in love musically a lot of times during SXSW. There's just something magical about watching music for the first time, with no previous contact, and getting instantly hooked. It lends a different meaning to love at first sight.
First things first: I had the amazing opportunity to go down to Austin with one of our artists – Elle Exxe. Following a band as they navigate the festival is an experience in itself. There's a natural high after any gig, but there's a special high after a SXSW gig. Maybe it's all the barbecue. Maybe it's the queso, and all the phenomenal Mexican food? It's definitely special.
Elle went down to Austin and kicked ass, you should check her out. It's unlike anything you've seen before and probably anything you'll ever see!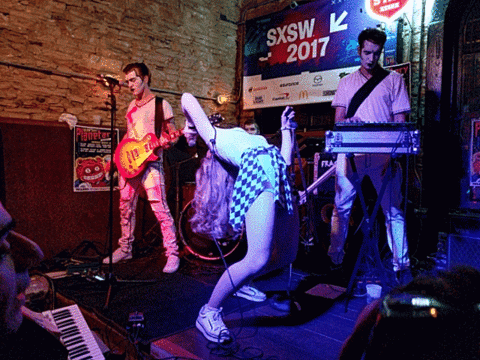 The best way to share my experience with you is to get musical about it. So, I'm going to share the stuff that made me tick and rock in Austin.
Emily Wolfe
Texas is the land of Stevie Ray Vaughan and, maybe, if you are a bad ass guitar player, you might as well come from Texas. Emily was born in North Carolina, but lives in Texas since she was 8. More than enough time to be infected with the guitar playing bug, and man… Does she deliver.
My first contact with Emily happened as she supported Ryan Adams (he sadly cancelled due to illness, but Emily Wolfe was worth the trip). This was a big theatre stage and she owned it.
Her guitar sounded like velvet and the bass was growling like some sort of animal. As she threw her head back and started her solos in amazing tracks, like War Criminal, I knew it was meant to be.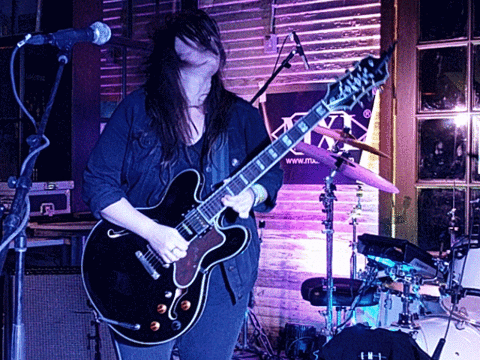 My friend and colleague Tommy was with me, we were both buzzing and we just had to see her again the following night. At a small venue in Rainey street, both of us stood right in front of the stage and our faces were melted by sheer awesomeness.
Superglu
Bands nowadays take themselves too seriously sometimes. A lot of artists come out as something fabricated, either musically or visually. Superglu is an honest, balls to the wall, rocking band.
Caught them on my first night of SXSW and again on my second night. If you picture yourself skating down the coast somewhere, Superglu is what should be playing. It looks like The Pixies and it sounds like you want to have a good time somewhere sunny. I might have been huffing on some of Superglu's sounds while in LA the following week from Austin, as I skate to and from the office.
The high is real… and you should be on it too!
LOLO
Rachel Ray throws a yearly party at Stubbs. This year De La Soul and Weezer were playing, but LOLO blew them away like a storm. With a visceral live show, LOLO is everything you hope when you get out of the house to watch music.
The Devil's Gone To Dinner had people gasping for air every time she kicked the chorus. She means it up there and you're hooked the moment she sings the first word. Her album In Loving Memory of When I Gave a Shit (what a name, right?) is great and you should check it out.
Seeing LOLO live is an uplifting experience, it's like when you're young and you just jump in a relationship and give your all without a single care in the world.
Who cares about consequences when the music is this good?
Liniker e os Caramelows
Full disclosure, I was born and raised in Brazil. But in no way am I biased when I write about this artist. Liniker fronts a funky and sexy musical experience that got a lot of gringos dancing in Austin. Tracks like Zero will you get you in the mood, as you can't help but sway to it.
At a certain moment, I turned to Tommy and said "that's how Brazilian babies are made", he nodded as we looked around at couples exchanging glances like if there was nobody else in the room while slow dancing.
Liniker has a spark and she shares it with the public as she looks deep in the eyes of people in the audience – you don't have to speak Portuguese to be completely entranced by that moment, that's universal. If a Martian descended upon SXSW it would be shocked at some of the things it would see downtown, but get it to the front row when Liniker e os Caramelows is playing, it will mutter under a Martian breath "this human race… they're alright".
There is just so much talent. I need to mention artists like Devon Gilfillian, Sykes, Manu Delago, Mastodon, Emi Secrest and many others. I feel like I could write forever about the music I have witnessed.
SXSW is a musical experience. I feel privileged to be able to be in the same room as some of these performers and even more privileged to work with music. Like Wooderson in Dazed and Confused (the movie happens in Austin, in case you didn't know), I say "You just gotta keep livin' man, L-I-V-I-N" and experiences like that are just the fuel you need to keep it alright (alright, alright!).